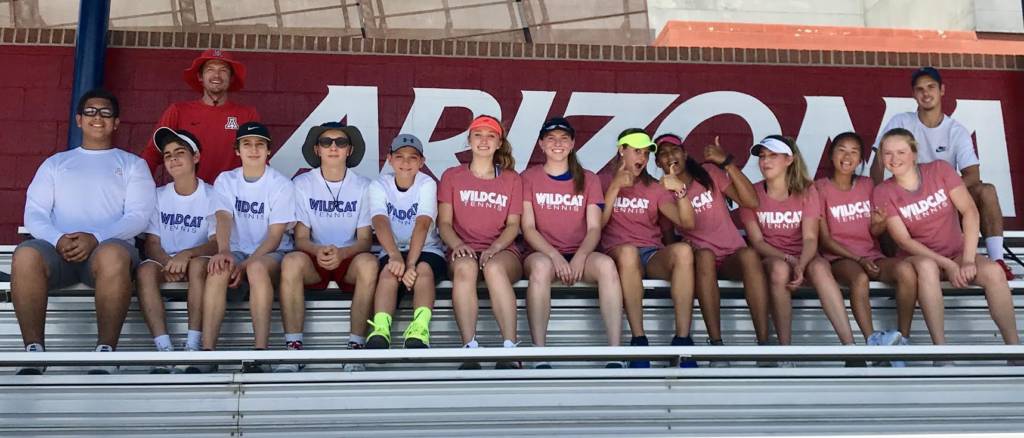 2019 Camp Dates:
Session I: 6/3 – 6/7
*Note: Camp runs Monday – Friday; Friday concludes at 12PM.
Ages:
Camp is open to players ages 9-18, ranging from beginners to advanced high school and tournament players.
Camp Options:
Half day: M-F 8:30 am – 12 pm (Lunch Included) – $275
Full Day: M-Th 8:30 am – 3:30 pm, F 8:30 am – 12 pm (Lunch included) – $425
Overnight: M-Th 8:30 am – 3:30 pm, F 8:30 am – 12 pm (All meals included) – $675
Sample Daily Schedule
8:15 am: Drop off and check in
8:30 am: Begin warm up
8:45 am: Drills and situational point play
11:00 am: All campers head to lunch
12:15 pm: Half-day campers check out
12:30 pm: Swimming pool or other other recreational activity
1:45 pm: Situational point play/Team competition
3:15 pm: Team meeting at Robson Tennis Center
3:30 pm: Full day campers check out. Overnight campers head to dorms
5:30 pm: Dinner
7:00 pm: Evening activity
10:00 pm: Lights out
Application/Consent Form
Participants must have a completed application, release form and medical history form.
Insurance
Our camp insurance will serve as a secondary coverage. It will cover injuries incurred in supervised camp activities that are not covered by your primary insurance.
Medical Information
First aid respondents will be available on call throughout the duration of the camp. With Tucson's desert climate, hydration is paramount for any outdoor activity. The coaching staff will be very diligent regarding any heat related issues ensuring the safety of all campers. Coaching staff CPR/AED/First Aid certified.
Location
The camp will be held at the LaNelle Robson Tennis Center, located at 900 N Martin Ave, Tucson, AZ 85719.
Supervision
Activities both on and off the court are supervised by staff members for their entire stay in camp. No one is allowed to leave campus or leave their group during camp.
Day Campers – What to Bring
Tennis racket (2 if possible), hat, sunglasses, sunscreen, towel, water jug/bottle, swimsuit, change of clothes, tennis shoes (No running shoes permitted on tennis courts), and a POSITIVE ATTITUDE!
Overnight Camps – What to Bring
Everything listed for Day Campers plus clean tennis clothes for five days, casual clothing, swimsuit, sunblock, towels, bed linens (Twin XL), light blanket, pillow, toiletries (soap/shampoo, toothbrush/paste, etc.), entertainment (games, books, radio, etc.), alarm clock.
Roommate Policy
For overnight camps, roommates can be assigned, if requested 14 days prior to camp session start date.
Refund Policy
The W.C. Tennis Camps have a strict no refund policy.
Should you have to cancel, you will receive a camp credit for all camp tuition fees paid, valid for the 2019 summer camp.
Considerations may be made for extenuating circumstances (i.e. medical excuse).
T-Shirt
All participants will receive an official W.C. Tennis Camp t-shirt.
Meals
Overnight Campers are provided breakfast, lunch and dinner throughout the week, beginning with dinner on Sunday night and ending with lunch Friday afternoon.
Full Day Campers will be provided lunch daily, Monday through Friday.
Half Day Campers will be provided lunch daily, Monday through Friday.
Camp Store
Gatorade and snacks will be available for purchase during camp.
Accommodations:
Overnight campers will stay on campus at Graham-Greenlee Hall. Each room will house either two male or two female campers. All roommate requests must be made 14 days prior to start of camp. If you don't have a roommate request, you will be placed in a room with someone near your age. It will be a great opportunity to meet someone new! There will be both male and female staff in dorms to chaperone at all times. Dorms are located a short walk from the tennis courts as well as the dining and recreation facilities.
*The W.C. Tennis Camp is conducted at The University of Arizona and is open to any and all entrants and enrollment is only limited based on age, grade level, gender, and/or number restrictions as specified by each camp.W